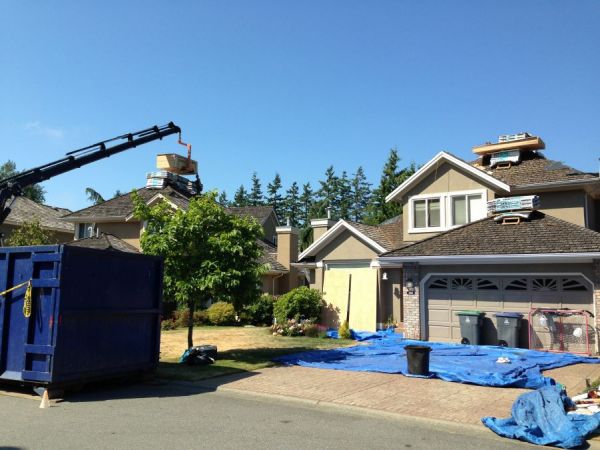 Do you know if you need a new roof? Better yet, do you know how to determine when a new roof is needed? Well, there are many visual cues to look for such as storm damage, missing shingles, nails popping out, rotten roof decking, and the presence of mold. If your roof is concave or drooping, that is another sign that you may need a new roof. If you have any of these issues on your home, contact Roofer Surrey immediately for assistance.
New roof installation is a huge project, and one you don't want to do often. When you discover you need a new roof, though, there are some steps can take to make the process easier and more efficient.
Have your roof inspected: you need to have your roof thoroughly inspected if you believe you need a new one. It is likely the existing roof will need to be removed. You should hire a licensed professional to do this.
Hire a licensed contractor: back in the day, you simply had open the Yellow Pages and call around for quotes then hope for the best. These days, your odds of finding a great contractor are better. Try to find a licensed contractor who has been in the business a long time and has great online reviews. If you are wanting to install a green roof, check that your contractor has experience doing these. Always check the Better Business Bureau before giving any contractor your money.
Have your new contractor inspect the roof: make sure they check the roof structure, decking, and flashings along with your shingles. This will allow them to give you a more accurate estimate on the work you need done. Make sure they check all aspects of your roof so there will be no surprises once the work begins.
Remove the existing roof: after the shingles have been taken off, it is time to do another thorough inspection. Look closely at the plywood that supports the roof. If the plywood is still good, your certified roofer can then install tarpaper and moisture barriers to the plywood that is there, then put vent covers on the roof.
Have your new roof installed: this is the fun part. You likely started shopping for new roofing materials as soon as you realized you needed a new roof. If not, there is still a little time to decide. There are many options available online and at the local hardware stores. The choices available are quite extensive. You can stick with your basic shingles, put up a tile roof, choose one of the many colors of metal roofing available, or even go green with your roof. Pick the roofing that fits your style and your budget the best.
As you can see, having your roof replaced is a process. It can be a smooth process if you hire the right roofer, though. Always do your research first to determine who you want to hire and the type of roof you want on your home.