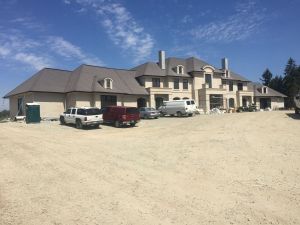 In addition to commercial and residential roofing services, Peakmasters offers commercial gutter and siding cleaning. If you are thinking about getting roofing services for your Langley, BC home or business, you've come to the right place. Our Langley roofers possess the ability to turn your living or workspace into a structure with visual appeal. We know good-looking roof, gutters, and siding can typically bring the wonderful décor you enjoy with your well-maintained interior to your exterior.
Whether you are a business with a roofing installation need, or you are building your dream home and need a roofing contractor, you can trust Peakmasters to be your Langley, BC roofing expert. We strive to provide the most comprehensive roofing solutions. Selecting a qualified Langley roofing contractor can seem like a daunting task. We understand the importance of getting your home or business roofing issue taken care of quickly. Our passion for bringing curb appeal to any property is evident in our innovative roofing methodologies.
No matter what your roofing needs, you have come to the right place. Our Langley roofers go the extra mile to ensure that every property has a beautiful, functional roof. We love what we do, do what we love, and have a stellar reputation that backs this approach. Regardless if it is a small home or a large apartment complex, we take every job to heart. Our team possesses an underlying dedication to provide our customers with high-quality workmanship.
We want you to feel safe leaving your roof in our capable hands. Our crew takes quality very seriously in all that we do. Whether we are doing an inspection, or installing a whole new roof, your property is our property. Offering replacement and repair services in a vast assortment of products and styles, we are dedicated to performing honest work at an economical price. We provide top-quality Langley, BC roofing at reasonable prices. If your roof is looking worn and old, contact Peakmasters.
From replacing your roof to leaky roof repairs, we are ready for any type of roofing problem you have. Our philosophy is if we are going to do the job, then we do it correctly. We are all about low-cost and stability. The truth is, our crew is enthusiastic about roofing. It is hard and demanding work. We welcome the opportunity to be of service to you.
We take pride in offering a huge array of exquisite roofing products that are constructed by the top manufacturers in roofing materials. The criterion we have for our roofers typically goes beyond what you would expect. Throughout the years, our roofing techniques have pleased our customers. We have faith in our workmanship, and if we take on a job, we do it right from the beginning.
Contact us today for a roofing repair estimate. Our quotes are competitive and our work is guaranteed.