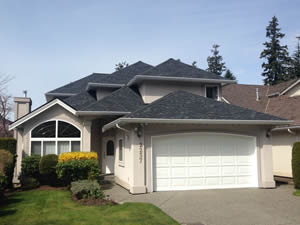 A legacy of excellence, it is the basis on which Peakmasters was built, and it is the basis on which we continue to endure. It is our devotion to the character of our representatives, dependability in our workmanship, and concern for our customers that separates us from our competitors. We look forward to earning your future referral as your first choice in Surrey, BC roofing companies. If you need expert residential roofing services, arrange an appointment with our Surrey roofers!
We have been providing commercial roofing in Surrey, BC for years. Therefore, we understand the unique needs of home and business owners in the area. Our full-service roofing repair, installation, and maintenance is customized to meet your roofing specifications. We work extremely hard within your schedule to make sure that your roofing project goes along as planned.
If your roof is damaged by a falling tree, call us immediately. You can also call us for any other types of roof emergencies, such as a leaking roof. We are devoted to providing roofing services with an uncompromising adherence to high standards. Our skilled Surrey roofers possess many years of experience. We work tirelessly to stay abreast on any new techniques in roof installations and repairs.
With many years under our belt, we have become the leader in roof remodeling companies in the Surrey, BC area. We specialize in listening to the roofing needs of our customers, and giving them exactly what they want.
When we take on a roofing job, our mindset is to leave your home or business looking better than when we found it. This attitude shows our devotion to creating lasting value in the Surrey community we serve. We apply the experience we have obtained over time to all of our roofing  projects.
Although small repairs can be easy tasks, roofing should be left to the professionals. If you are uncomfortable with doing your own roofing job, come to us. We will discuss all of your options, and at the same time, we will suggest to you what will work best for your roof. We have an innovative approach on what products will work great and stand the test of time on your structure. You will be hard pressed to find another Surrey, BC roofing contractor who can deliver the level of services that we can. We are infamous for going the extra mile in giving our customers roofing services that solves their issues once and for all.
We have the knowledge and experience to accurately assess the situation of your roof. We will resolve any roofing issue you might have. Our Surrey, BC roofers can handle any type of roofing project. Our experience, expertise, and commitment to quality will ensure that your roof will last a long time. We have been installing and repairing commercial roofs for a number of years, and we have evolved into becoming one of the most preferred commercial roofing companies in the Surrey, BC area. To get a whole new roof, or get the roof on your business repaired, use Peakmasters.
Contact us today for a roofing repair estimate. Our quotes are competitive and our work is guaranteed.